Two Months in Jordan!
It's been almost two months now at UNESCO Amman for me. I am waist deep in all that the education sector is doing, and am really grateful for the experience to be able to work so closely on such important tasks with my colleagues. The Education Sector of the UNESCO Amman Office is in the middle of implementing a project funded by the European Union called "Sustaining Quality Education & Promoting Skills Development for Young Syrian Refugees in Jordan." This project has several components including non-formal and informal education, teacher professional development, youth mentoring, and higher education. I have been supporting all aspects of the project, but work most directly with the Youth Skills Project Officer on monitoring and evaluation of the informal education component. I have also worked heavily on increasing the Education Sector's visibility, including putting together the newsletter: Quality Education for Young Syrian Refugees in Jordan.
What is the difference between non-formal and informal education in Jordan? 
Informal education typically means any education outside of formal schooling. In Jordan, the terminology for the education sector is a bit different, because Jordan has a certified non-formal education program. Before the refugee crisis, this program was similar to a GED program, geared towards drop outs of the formal education system. The non-formal program is now something of a certified accelerated learning program for Syrian refugees, and Jordanians. The non-formal education program is established, there is a set curriculum that leads to certification, and not much wiggle room in service delivery. Informal education on the other hand, is much more flexible. This can lead to huge differences in quality from one program to the next. The informal education projects that UNESCO is implementing with its partners include components on Arabic, Math, English, Art and Life Skills. Inclusive in Life Skills is psychosocial support.
Project Support
Part of my job at UNESCO is to travel to project sites with the Project Officer, and monitor the implementation of informal education. I am concerned with supporting partners to provide the highest level of quality possible within their means, and have developed some monitoring tools to help us do that. The two sites I travel to at the moment are Zaatari Camp in Mafraq, and the city of Irbid. UNESCO has a dedicated site in District 10 of Zaatari, where informal education projects will conduct programming. In Irbid, projects are serving urban refugees.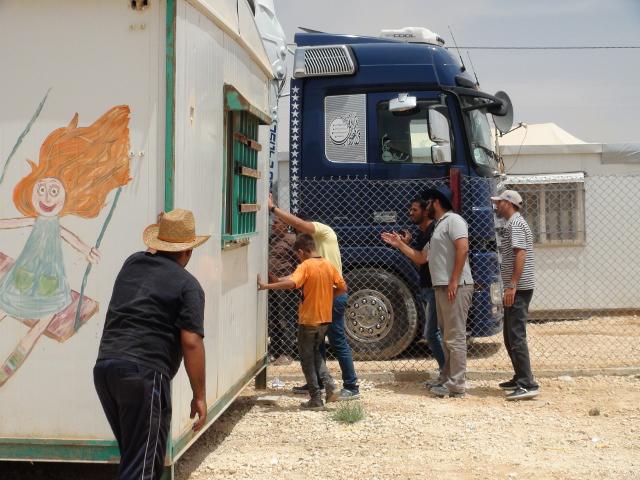 Zaatari Camp
Zaatari camp is massive, but it's not only the size that's overwhelming. The heat is relentless, the air is dry, and the landscape is stark to say the least. Though, while the camp itself is imposing and dire, you see glimmers of life and hope in the markets, in the laundry hanging to dry, and in the people riding bicycles on the wide dirt streets. I'm proud to be a part of bringing educational services to these people, who deserve only our best.
Personal Life
It's the Holy month of Ramadan in Jordan right now, which means that many people stay up all night. Shops, cafe's and restaurants are closed until sunset, and it is illegal to eat or drink in public. Needless to say, life moves by kind of slow during this time. It has been a very interesting experience though, and a huge privilege to get invited to break the fast with friends and colleagues.
One amazing event that was taking place this past week is the Arab Film Festival sponsored by the Royal Film Commission. I was lucky enough to attend three films, and stay for the Q & A with the directors. My favorite film was "The Beats of the Antonov," a Sudanese film about how displaced people in the south of Sudan cope with their situation through traditional music.
To be continued…
I hope to update you more in the future on the implementation of these projects, and how UNESCO is supporting education for refugees in Jordan. In my next post I will talk more about higher education for refugees, and why it's so important for donors to start investing.